For the second time in two months, Gaimin Gladiators won the grand final over Team Liquid — though it was a significantly more difficult victory this time around.
The Lima Major champions beat Liquid in a series that went the distance to claim the DreamLeague S19 crown. The riveting grand final came just one day after the two teams played a 76-minute epic.
Gaimin Gladiators secured a massive prize purse, taking away US$300,000, as well as the sole qualifying berth to the US$15 million Riyadh Masters. Liquid will have to settle for US$175,000.
The rematch between regional rivals was settled earlier today after Gaimin Gladiators swiftly dispatched Shopify Rebellion in the lower bracket final with a 2-0 win.
---
---
Gaimin Gladiators takes another grand final over Team Liquid in DreamLeague S19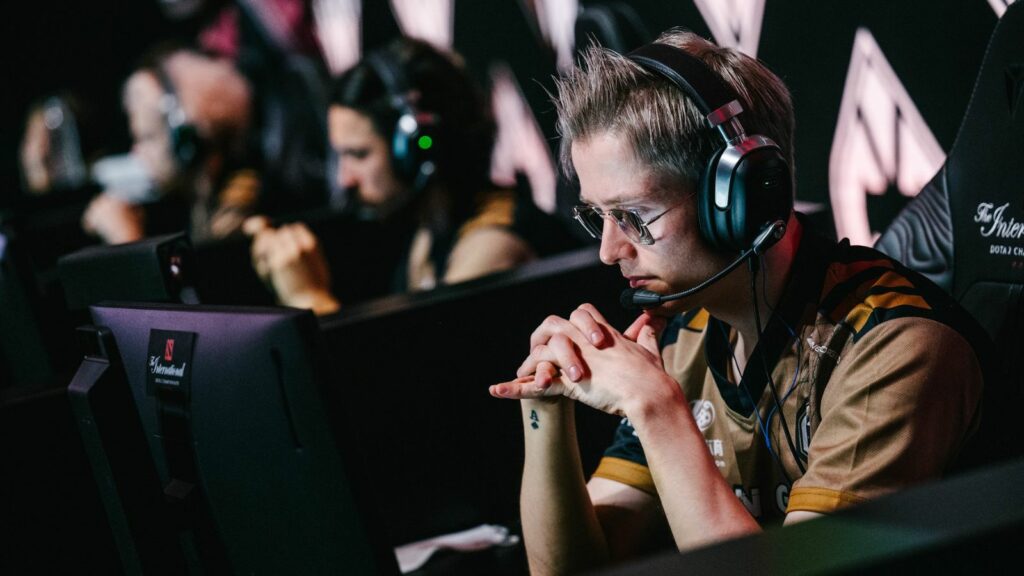 Though Liquid held a kill lead through nearly the entire first game, Gladiators was the one slowly accruing net worth, thanks to the incredible farming speed of Marcus "Ace" Christensen's offlane Doom and Melchior "Seleri" Hillenkamp's Chen. The rest of Gladiators' kept their farm speed up by constantly shoving lanes, slowly bleeding Liquid out. Whenever one of their slippery cores — Puck or Slark — caught a Liquid heor offguard, Ace was instantly there with a Boots of Travel 2.
By the time the team grouped up to push, Seleri's Chen had accrued so many auras that it proved difficult for any of Liquid's cores to do any damage — and could only watch as their base crumbled.
Game two was much of the same. Liquid replicated a similar strategy with Chen, this time leveraging Ludwig "zai" Wåhlberg's offlane Underlord. Once his ultimate was up with Fiend's Gate, Liquid became a roaming terror, teleporting around the map to secure objectives and hero kills, then efficiently returning to their farm. Once more, the Chen train rolled over yet another team, and Liquid evened out the series.
---
The third game was the closest contest of the series, with both teams trading evenly throughout the game. It was Liquid that came out with a net worth lead in the early game, with an incredibly farmed support duo of Chen and Phoenix.
Unfortunately, Liquid will rue being unable to snowball their advantage due partially to Aydin "iNSaNiA" Sarkohi's mistake on Chen. He accidentally left a Holy Locket on the ground for ten minutes.in the midgame, which negatively impacted their teamfight prowess.
Gladiators made good use of the time — especially Anton "dyrachyo" Shkredov's Muerta, who topped the net worth charts for most of the game. Early signs of Muerta in the pro scene have showcased her unparalleled damage output, and he definitely caught Liquid unawares.
---
---
With his confidence sky-high, dyrachyo paid for it after taking down the top lane of barracks, resulting in a death. What ensued was a back-and-forth between the two teams for a breathtaking seven minutes, with both squads coming in clutch with swift and unexpected initiations.
Muerta and Underlord moved to the bottom lane, inexplicably stacking right on top of each other. Liquid quickly and literally pounced — Michael "miCKe" Vu's Slark leapt in to immediately to punish the two Gladiators' cores.
---
---
Undeterred, Gladiators moved towards the Roshan pit, quickly grabbing it for themselves. Once again, they tried assaulting Liquid's bottom barracks — and once again, they were repelled. Liquid made full use of the new Defender Gates, essentially a backdoor into their base that can only be exclusively used by the allied team.
Sneaking two cores through the Gate, it was zai who found the important enemy supports, proving a crucial distraction for Nisha to come in with a spectacular Rolling Thunder and the rest of Liquid to converge.
---
---
Liquid rushed down their lanes, trying to capitalize on the small window of opportunity. Alas, losing Roshan proved to be their downfall.
Seleri's Disruptor had an Aghanim's Blessing from Roshan, used to great effect against a diving Slark by negating his defensive skills and items. Gaimin Gladiators took down miCKe, and even forced him to buyback because of the creeps pushing into the Dire base.
---
---
Gladiators decided to pitch a fastball, grouping for a Fiend's Gate directly onto the Liquid high ground. After quickly getting a kill on Samuel "Boxi" Svahn's Phoenix, the team was split on their next step — teleporting through the Fiend's Gate again, or staying around. The indecision forced them to stay after the ultimate expired, and Liquid swung hard to claim some more key kills— but was left without any barracks left to defend.
---
---
After the hectic period ended with Gladiators securing mega creeps, they finally took a breather. The rest of the game was much cleaner for the Lima Major champions.
A desperate Liquid constantly tried to leave their base and get kills, but Gladiators were prepared to respond. Liquid once again tried to move out with the Riki and Slark initiation combo, but were ultimately repelled with some key defensive plays from the opposing supports.
---
---
It was just too much — and Liquid was once again forced to concede, giving match point to Gaimin.
It didn't take long for Liquid to equalize the series again, however, thanks to a spectacular Rubick performance with enough plays in one game to fill out a career highlight reel.
---
---
Though it was Boxi with the flashy plays, the rest of the team stepped up their game massively. Zai's Underlord was once again the great equalizer for nearly every teamfight Gaimin tried to take. Whether it was bringing himself or other allies through the Fiend's Gate, it was a five-star Uber performance that Liquid rode to a quick victory.
---
---
Despite the extreme stomp, Gladiators came out of the gate in game five with a solid game plan. Picking up three greedy cores, they relied on their support duo to gain an advantage in every lane. It was especially prevalent in the midlane, where Quinn was the constant recipient of double support rotations to secure runes and prevent Nisha from getting any runes.
Gaimin continued to slowly accrue net worth, while Liquid desperately ran all over the map with the Underlord Fiend's Gate and Smokes of Deceit to little avail. Eventually, it was all Gaimin — and once they felt ready to take the fight, Liquid simply did not pump out enough damage to remotely threaten the mighty Gladiators.
---
---
You can watch the full series on ESL's official YouTube or Twitch channels.
READ MORE: ESL One Berlin Major power rankings: Team Liquid, Gaimin Gladiators seize the night