Choosing the right video host for your business can amplify your video marketing efforts. Video hosting services enable users to upload and share their content on the internet in a reliable way. Going straight to internet giant YouTube might seem like the obvious answer, but there are good reasons to use other services.
Coming up with an idea, creating, and editing your content is already hard enough, so we want to make it easy to help you choose the right video host for your business. We compared four video hosts that could be perfect for your company.
Video Host Feature Chart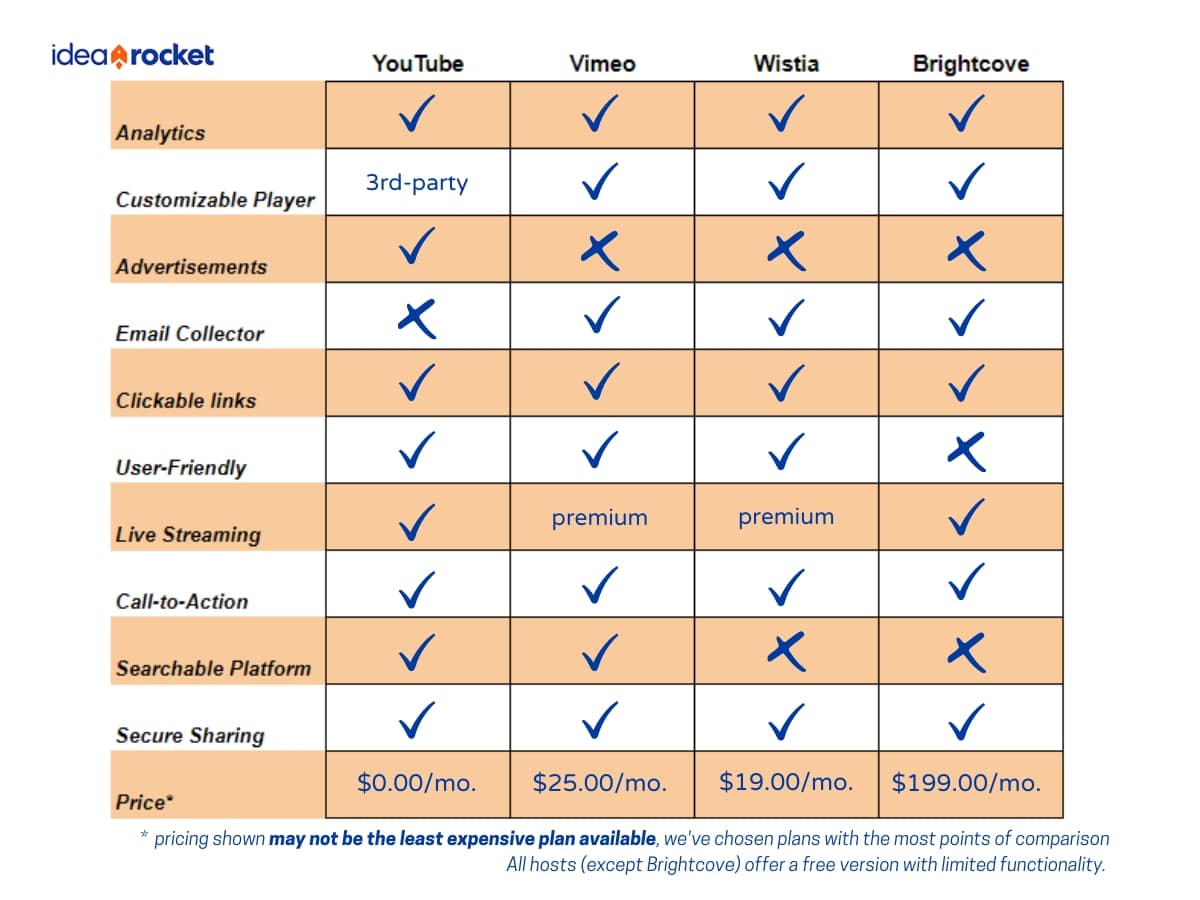 YouTube As a Video Host for Business
Unless you've ignored the internet for over a decade, you know what YouTube is. The ever-growing video platform trails only parent company Google as the second largest search engine. They welcome 2.5 billion users every month.
Mainly an entertainment and social platform, YouTube is a great tool for content creators who want to grow their subscriber base on the platform. It can build your audience and increase brand recognition. 
Since YouTube is essentially a video search engine, your videos are easy to find on the platform. Unsurprisingly, YouTube videos also rank well on Google.
SEO and Discoverability on YouTube
Discoverability is a definite pro, but there's one complication. You may be giving YouTube some of your SEO credit. If you embed a video on your site but the YouTube page containing the video has more information that's more useful to searchers, the YouTube page will rank above your site on a search engine results page. In that case, the SEO credit goes to YouTube and traffic is directed to their site, not yours. 
The amount of content on YouTube is a double-edged sword. On one hand, you can easily find a video on almost any topic in one user-friendly place. On the other hand, your video can easily get lost in the noise.
Ads on YouTube
It's also worth noting that YouTube shows ads before every video, even if you don't want them. The Google Ads platform allows advertisers to run ads across the entire Google advertising platform, including YouTube, so your viewers will see ads for other companies before watching your content. If your channel is part of the YouTube Partner Program, it may be eligible for revenue shares from those ads, otherwise only YouTube profits.
Affiliate marketing is allowed on YouTube, so adding affiliate links to the video itself or to the video's description can help you earn revenue. 
Although YouTube is not designed specifically to serve companies, many still use it. And for good reason. Since this site has so many visitors, it may be the place your video is most discoverable. Also, the robust YouTube analytics feature is based on Google Analytics. It can tell you who watched your video and for how long, plus how they found it.
The barrier of entry is also really low. The only requirement for creating a YouTube channel is having a Google account. You can livestream as long as your account is verified. Plus, you can add clickable annotations called cards to the end of your videos to promote your other content.
Using Vimeo To Host Business Video
If YouTube has one real competitor, it's Vimeo. Vimeo is the second largest video hosting platform with 260 million monthly users – still substantially behind YouTube's 2.5 billion monthly users.
One of the aspects that sets the two apart is their communities. Vimeo prides themselves on having high-quality content, more attractive site design, and a more artistic indy crowd compared to YouTube.
Vimeo also provides four service tiers for users: Starter, Standard, Advanced, and Enterprise. They come with a range of features at different price points and are designed to be scalable as companies grow and their video marketing needs evolve. 
Vimeo Standard Plan
With Vimeo Standard, businesses can customize their player to fit their brand image and add custom calls-to-action. The plan also includes lead captures with email collectors to generate leads and improve engagement. These collectors allow viewers to submit their name and email within an interactive pop-up window. This feature pairs with email software – like MailChimp – to make retrieving the contact information a breeze.
Vimeo Standard also tracks 3 categories of analytics: basic, engagement, and social. This gives users access to engagement graphs that track video performance and shows what interests viewers the most. The plan lets businesses create a custom video link for SEO. 
Wistia, Another Video Host for Business
Wistia calls itself "the video hosting platform made for B2B marketers."
Wistia is for companies that want to use video on their own website to drive traffic. This increased traffic to your site will help boost your SEO. You can also restrict the domains (Vimeo also provides this) to stop people from embedding your video anywhere you don't want it.
The control you have over content doesn't stop there. You can also customize the player to change the color and size so that the video fits well with the design and brand of your site. Wistia has a similar email collector to Vimeo – called turnstile – that can require viewers to add their email before they can continue watching.
With all these features comes a price. Wistia can get pretty expensive. Their Plus package starts at $19, but offers just 20 videos and basic analytics. To get the advanced analytics that make Wistia truly valuable, you'll need the Pro Package, which starts at $79 per month for up to 50 videos. 
Wistia Analytics Tools
Wistia's heatmap analytic display shows an in-depth graphical representation of an individual viewing session. It gives you personalized information about that particular session of your video by attributing viewing activity to individual specific emails.
You can find out anything, such as if international viewers tune out quicker, or which part of the video interests your viewers the most. The darker parts of the heatmap signify segments of the video viewers watched multiple times. The lighter areas of the heatmap indicate spots viewers watched only once or not at all.
Wistia can get pretty expensive with their Pro Package coming in at $79 per month compared to Vimeo Standards's price of $25 per month. You also don't get the exposure that searchable platforms like YouTube and Vimeo can give you.
Brightcove, Maybe Not For Everyone
Founded in 2004, Brightcove has always been on the cutting edge. They provide high-quality video streaming across all devices – especially with mobile.
If all of that sounds like a bit much to take in, you wouldn't be alone. While Brightcove is pretty comparable to Wistia, it isn't nearly as user-friendly. Brightcove suffers from having a clumsy interface and hard-to-use player customizer.
Brightcove boasts a highly sophisticated analytics feature that will create a customized analytics report that fits your company's needs. The analytics feature also lets you see how your video is performing with particular audiences.
They also provide a high-quality live streaming function that allows you to broadcast any of your events live in HD. You can choose the ads that go on your content to better monetize your stream and also give your audience the ability to pause and rewind the event.
Unfortunately, Brightcove's pricing is a bit of a mystery. They market themselves as offering custom solutions, so you'll need to talk to a sales rep to get the pricing for your business. It appears as though the least expensive option is $199/month, and the platform requires an annual contract. 
With its advanced features, Brightcove can be an amazing video hosting platform and can give your business the leg up it needs to stand out from the crowd. But the price and complexity may be more than many businesses can handle.
Choosing The Best Video Host for Your Business
The right video host comes down to your budget and goals. Keep in mind that you don't have to stick to just one. To maximize exposure you might post some videos on both YouTube and Vimeo. These platforms are great at building awareness and helping new audiences discover your content. For audiences further down the funnel, you might host videos on Wistia or Brightcove. These platforms have the infrastructure to help you achieve conversions.
Ultimately, the best video host is the one (or ones) that works for your business. So experiment and see what works for you. Of course, before you start with any of these platforms, you need videos to host. That's where IdeaRocket comes in. We create videos in 2d and 3d animation, as well as whiteboard. We've worked with healthcare, technology, and many other industries. And we've created employee-facing videos for a number of Fortune 500 companies. Contact our animation experts today to find out more.