Batman cover artist Joe Quesada showed off the large anniversary #900 cover for the comic.
As you can see, there are a ton of Batmen celebrating 900 issues of Batman but also some 80-odd years of the character. The amazing cover is actually two interconnected covers. That means if you want the complete effect, you have to buy two copies of Batman #900. It is also available as a wraparound black and white ratio variant cover (1:100).
Speaking of all of the Batmen, are you able to identify them all? If not, then that is okay. Joe Quesada created a nifty version where he labels all of the different Batmen.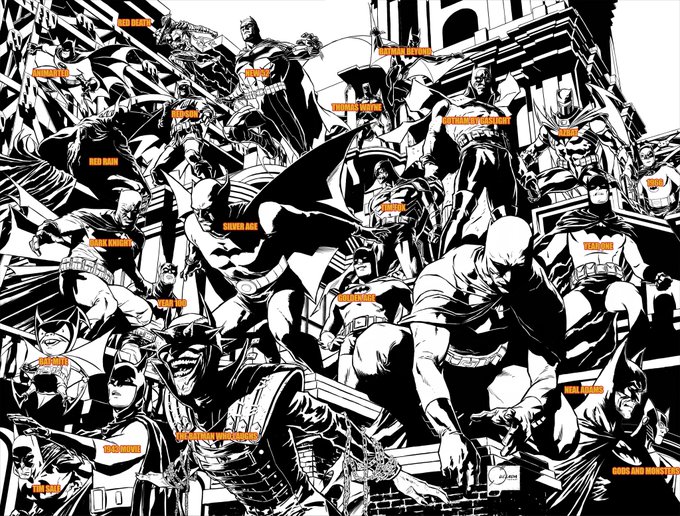 Personally, I was only able to identify about 3/4ths of them. I certainly did not get the Batman from Year 100 or the Neal Adams' styled Batman.
There are certainly a ton of Batman variants that are missing. After an informal Twitter poll where people responded which missing Batman they'd wish could be included, Joe Quesada gave a perfectly frank and sensible reason why some are missing.
After years of not drawing Batman, I may have overcompensated with 23 on one piece.

For those wondering why some versions were omitted, there are two reasons, none of them having to do with the amazing story.

1- I couldn't fit anymore if I wanted to.
2- I was really tired. pic.twitter.com/AN0rxO3fYV

— Joe Quesada (@JoeQuesada) April 7, 2023
Totally get it, Joe. Go rest your amazing artistic hands.
Batman #900/135 will hit comic shops on May 2nd.
Source: Twitter.com
All images maybe subject to copyright.