Loungefly has released a new cosplay backpack and wallet inspired by Catwoman from Batman Returns.
Michelle Pfeiffer played the long-suffering and frustrated secretary Selina Kyle in what many fans feel is her most exquisite performance. We were enthralled by a supervillain who could make the best of us go rogue.
This Loungefly Exclusive Limited Edition Batman Returns Catwoman Mini Backpack and matching wallet can certainly help you on your way. Stand out from the crowd and let everyone know who they are messing with when you step out with this cat on your back and in your pocket.
Both are made of faux leather with embroidered details. The black faux leather has a vinyl look to it with white stitching, resembling Michelle Pfeiffer's famous Catwoman costume, from the 1992 Tim Burton Movie Batman Returns.
Both the items also have a metal Loungefly Batman Returns metal and enamel sign attached and a metal and enamel charm attached to the zip. The zip charm reads "HELLO THERE" but the H and T have been blacked out, just like the neon sign in the movie. The lining is a bright pink with black lace design detail. The black print has a black cat in the center of the design.
The backpack also features the line "I AM CATWOMAN, HEAR ME ROAR" on the reverse of the bag, as well as white scratches and the Batman Returns logo.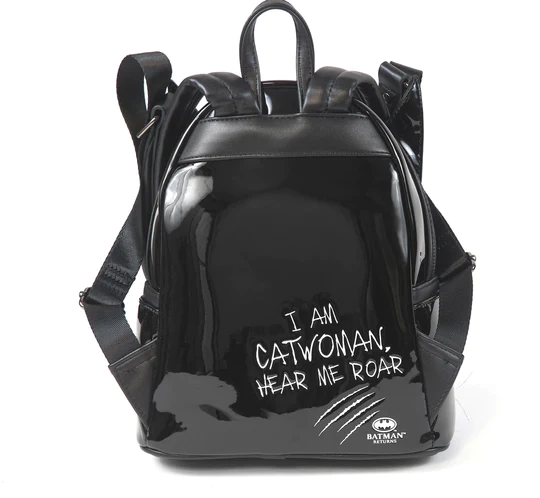 Both the backpack and wallet are now available to pre-order from Hooks or for customers in the US and Canada Eight3five. The wallet is limited to 240 pieces in the UK and Europe and 1000 pieces in the US and Canada. The Backpack is limited to 750 in the UK/Europe and 1250 in the US/Canada.
Images and Press Release Courtesy of Loungefly