"My Adventures with Superman" Review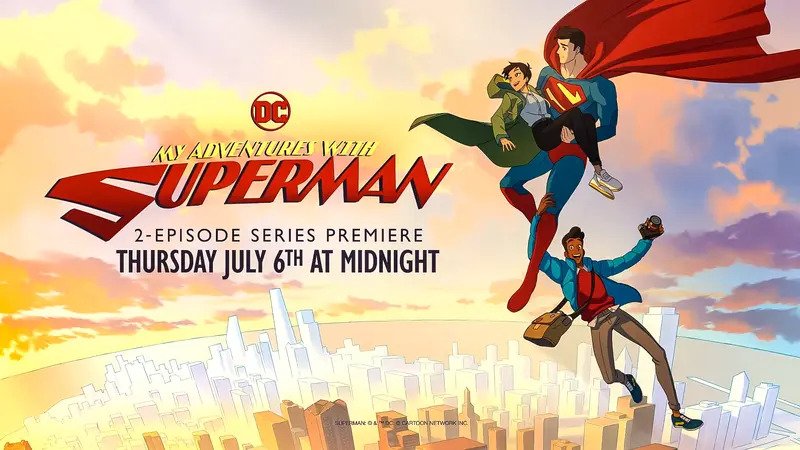 Posted on June 29, 2023 by Neil Cole

Cartoon Network recently provided the Superman Super Site with an advance look at "My Adventures with Superman", the upcoming animated superhero television series based on the Man of Steel.

The new series offers a very unique unique take on Clark Kent/Superman (Jack Quaid) by featuring the iconic superhero as a 20-something just starting out as an intern at the Daily Planet alongside his roommate Jimmy Olsen (Ishmel Sahid) and romantic interest, Lois Lane (Alice Lee).

Against Chief Editor Perry White's explicit instructions, Lois is extremely eager to make the big jump into becoming a full time journalist for the publication and manages to coerce Clark and Jimmy in the first episode into joining her on the trail of a major scoop involving stolen military robots.

Of course, things do not go as planned and chaos insues resulting in a very inexperienced Clark to fight a somewhat loosing battle against the robots all while having to shield himself from Lois and Jimmy so they do not discover that he is actually a superpowered being from another world.

Clark's inexperience in fights and struggles with using his powers is represented throughout the series and offers a fresh take on the character that has not been fully seen before in animation, film, or television. Clark always finds a way to stay in the fight though and, following his eventual reveal to the world as Superman, stoically represents hope and a better tomorrow.

The romantic pairing between Clark and Lois is hinted at very early on with Clark falling for his future wife upon their first encounter. The reltationship only continues to blossum from there with Clark admiring Lois' drive to become a star reporter and her unflinching will do anything to make that dream become a reality. Conversely, Lois has respect for Clark's unwavering optimism and drive to always put others before himself. They are truly the pure definition of "opposites attract".

Jimmy being featured as Clark's roommate offers a very welcome take on the relationship between the two that features Clark constantly having to put up with Jimmy's endless government conspiracies and hilarious antics. The combination of Clark's stoicism, Lois' over-the-top energy, and Jimmy's offbeat personality, results in a trio of very entertaining characters that, through all the obstacles thrown their way, always manage to come together in the end.

Several familiar faces from Superman's diverse gallery of characters are also sprinkled in throughout the series all while an ongoing plot focusing on an assortment of villains and organizations is featured throughout the first season run. With that being said, the series chooses not to focus too heavily on superhero antics and instead focuses on character development and the strong relationships they have with one another which are certain to have a lasting impact as the series continues.

All-in-all, "My Adventures with Superman" offers a breath of fresh air that the Man of Steel has needed for quite some time following a recent history of dark and moody depictions of the iconic superhero. The animation has a "Dragon Ball Z" flair to it while at the same time keeping the overall tone of such previous television series as "Superman: The Animated Series" and "Justice League/Justice League Unlimited". Superman fans and comic fans in general will certainly enjoy this new animated series that will hopefully be around for several seasons to come.

"My Adventures with Superman" is scheduled to premiere on Adult Swim on July 6th, 2023, with episodes releasing on Max the following day.

×
×
---
---