Western European esports organization OG made an unexpected roster change before the start of DPC Tour 2.
The team revealed that their position 5 support player, Mikhail "Misha" Agatov, and OG's coach, Evgenii "Chu" Makarov, have officially swapped roles.
The announcement was made on Twitter before teams had to lock in their rosters before the DPC Spring Tour.
---
---
OG roster change has Misha and Chu swap roles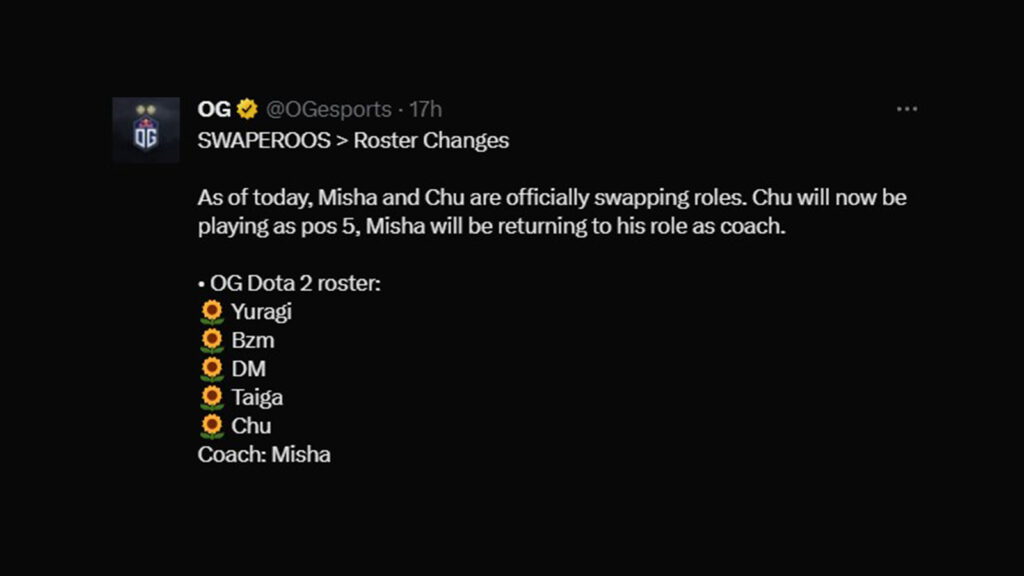 Misha had first announced that he was stepping down as a player.
"I do not feel like I was able to transform all of this into the game, either with calls or personal plays," said Misha. "I thought a lot about it and could not ignore the moments when I coached before."
"I enjoyed it so much, and I felt like all my Dota knowledge was used 100%," he continued. "I feel like we will be so much stronger if I can help structure the practice process, talk about how to improve the game, help the team, and take care of our drafts."
OG narrowly missed qualifying for the Lima Major after competing in the DPC Winter Tour. The team was tied in 3rd-4th place with Tundra Esports and Entity at the end of the WEU Divison 1 regional league.
However, OG lost to Tundra and Entity in the third round of tiebreakers, and did not qualify for the Lima Major.
OG Dota 2 roster
(1) Artem "Yuragi" Golubiev
(2) Bozhidar "bzm" Bogdanov
(3) Dmitry "DM" Dorokhin
(4) Tommy "Taiga" Le
(5) Evgenii "Chu" Makarov
Mikhail "Misha" Agatov (coach)
Valve has yet to announce the official dates of the regional leagues for the DPC Spring Tour. Regardless, OG will be competing against the other Division I teams, including Team Liquid, Gaimin Gladiators, Tundra Esports, Entity, Nigma Galaxy, Ooredoo Thunders, and Monaspa.
The top four teams from DPC Tour 2 will qualify for the Berlin Major, the second Major of the DPC 2023 season.
READ MORE: Gaimin Gladiators grabs gold at Lima Major, goes undefeated in playoffs