"Justice League x RWBY: Super Heroes and Huntsmen: Part 1" 4K Ultra-HD Review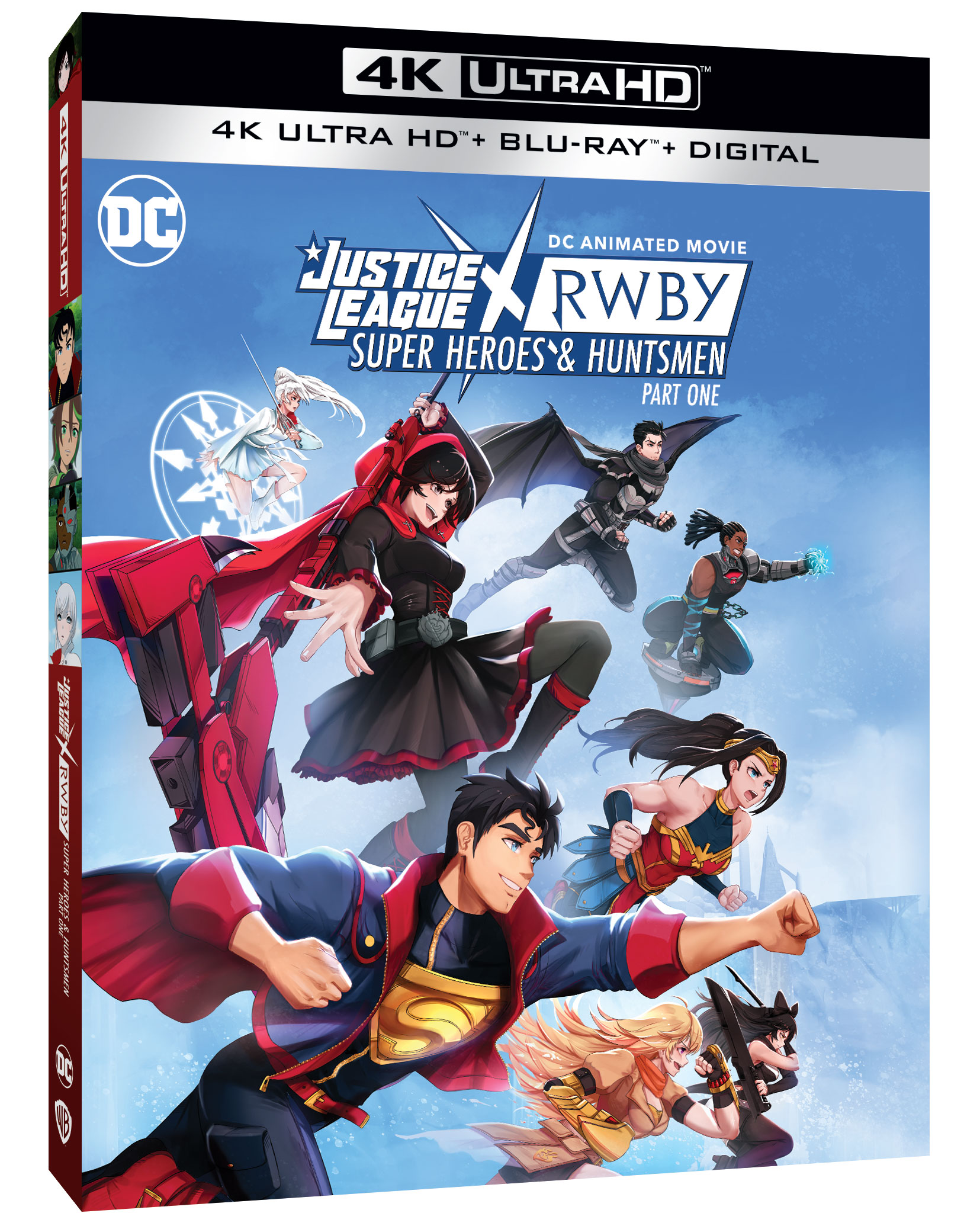 Posted on April 29, 2023 by Neil Cole

"Justice League x RWBY: Super Heroes and Huntsmen: Part 1" features the Justice League – Superman, Batman, Wonder Woman, The Flash, Green Lantern (Jessica Cruze), and Cyborg – transported to a mysterious new world where they have been turned into teenagers and with no memory of how they got there. While searching for answers, they eventually encounter Team RWBY (pronounced "Ruby") who are a Huntress team of former Beacon Academy students comprised of Ruby Rose, Weiss Schnee, Blake Belladonna, and Yang Xiao Long.

Also struggling to piece together their memories, Team RWBY decide to join forces with the Justice League to solve the mystery while also engaging in combat with the Grimm; a species of mindless yet deadly creatures.

The crossover of these two popular franchises is unexpected will most likely appeal to a very select niche market of fans. With that being said, the animation and action sequences are well-executed and the attention to detail given to the characters and their abilities deserves a high level of praise. The addition to a few select comedic moments also provide light-hearted touch to an otherwise serious story.

All-in-all, while the two universes of the Justice League and RWBY are greatly different in tone, style, and content, "Justice League x RWBY: Super Heroes and Huntsmen: Part 1" is certainly worth checking out wether you are a fan of either franchise or just curious about this unexpected crossover.

"Justice League x RWBY: Super Heroes and Huntsmen: Part 1" features a trio of first-time actors in DC's Trinity roles – Natalie Alyn Lind (Big Sky, The Goldbergs, Gotham) as Wonder Woman/Diana Prince, Chandler Riggs (The Walking Dead, A Million Little Things) as Superman/Clark Kent and Nat Wolff (The Fault in Our Stars, The Stand) as Batman/Bruce Wayne – alongside RWBY's long-running cast: Lindsay Jones (Camp Camp) as Ruby, Kara Eberle (RWBY: Ice Queendom) as Weiss, Arryn Zech (The Detective is Already Dead) as Blake, and Barbara Dunkelman (Blood Fest) as Yang.

Also featured in the voice cast are Ozioma Akagha (Teen Titans Go!) as Vixen, Jen Brown (Red vs. Blue) as Pyrrha, Tiana Camacho (JoJo's Bizarre Adventure) as Glynda, Aaron Dismuke (Fullmetal Alchemist) as Oscar, Jason Douglas (The Walking Dead) as Jacques, David Errigo Jr. (Ridley Jones) as The Flash/Barry Allen and Rolf, Samantha Ireland (Red vs. Blue) as Nora, Miles Luna (Camp Camp) as Jaune, Shannon McCormick (Get Backers, Day 5) as Professor Ozpin, Neath Oum (RWBY: Chibi) as Lie Ren, Tara Platt (Aggretsuko, Naruto: Shippuden) as Kali, Jeannie Tirado (Soul, Saints Row) as Green Lantern, and Tru Valentino (The Rookie, The Cuphead Show!) as Cyborg.

"Justice League x RWBY: Super Heroes & Huntsmen, Part 1" is produced and directed by by Kerry Shawcross (RWBY franchise) and written by screenwriter Meghan Fitzmartin (Supernatural, Justice Society: World War II). Producers are Ethan Spaulding (Mortal Kombat Legends: Scorpion's Revenge), Jim Krieg (Batman: Gotham by Gaslight) and Kimberly S. Moreau (Legion of Super-Heroes). Laura Yates (Boyhood, RWBY, Red vs. Blue) is Supervising Producer. Executive Producer is Michael Uslan. Sam Register is Executive Producer.

"Justice League x RWBY: Super Heroes and Huntsmen: Part 1" is currently available available to purchase Digitally and on 4K Ultra HD Blu-ray Combo Pack and Blu-ray.

×
×
---
---