Rain Fails to Dampen 45th Annual Superman Celebration Costume Contest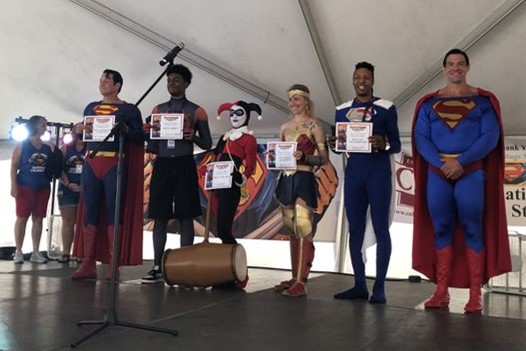 Posted on June 13, 2023 by Neil Cole

The 45th Annual Superman Celebration hosted their annual costume contest this past Sunday, June 11th which featured a mix of iconic heroes and villains from pop culture.

Despite cloudy skies and a few downpours, a huge crowd turned out for the annual event which featured an array of costumed participants competing in this year's contest.

Judges for this year's costume contest were regular Superman Celebration attendees Chris Brockow, Brad Graham, and Kaite Graham along with John Gleckler – who was dressed as the classic DC Comics superhero character, Greg Saunders/Vigilante – serving as host.

Contestants included Cameron, Hannah and Kanden as the Court of Owls, Stephen Terry as Batman, Emu Feist as Wonder Woman, T.J. McDonnell as Superman, Bruce Ellis as The Flash, Melanie Adams as Supergirl, Yuri Rentfro as a Mandalorian, Marz Stardust as Harley Quinn, Morgan Breidt as Harley Quinn, Chuck Cockrun as Pyramid Head from Silent Hill, Eva Gleckler as Joker/Arthur Fleck (2019), Duncan Bishop as Superman, Davyd Jones as Spiderman (Toby Maguire Version), Dawn and Justin Brock-Jones as Dr. Hugo Strange and Dr. Harleen Quinzel, Billy Carter as The Undertaker, Kyra Meadow as Harley Quinn, Kyra and Skylie Frend as Harley Quinn and Poison Ivy, Joey Dugo as Willy Wonka, Dana as Wonder Woman, Monte and DC (aka the Cosplay D.J.) as Earth 2 Superman and Wonder Woman, Jordon Roy as Spiderman/Miles Morales, Grace Fields as Supergirl, Kris Denson as The Batman Who Laughs, Jeremiah Franklin as Redhood, Sondra Ruth as Mario, Ray Martinez as Luigi, Ken Sills as Wario, Syndi Sills as Princess Peach, Justin Olinghouse as Bowser, and Jess E. Quinn as Gotham Knights Harley Quinn.

Following deliberations by the three judges, winners of the costume contest were announced including Jordon Roy as Miles Morales Spiderman (Best Superhero), Marz Stardust as Harley Quinn (Best Villain), T.J. McDonnell as Superman (Best Superman), and Monte and DC (aka the Cosplay D.J.s) as Superman Earth 2 and Wonder Woman (Best Group and Best of Metropolis).

After a photo-op with all the costume contest participants and winners, the Superman Celebration held their official closing ceremony which featured remarks from the Celebration Committee thanking everyone for attending and encouraging them to attend next year's festival.

Photo Credit: Chris Brockow

×
×
---
---