'Justice League x RWBY: Super Heroes & Huntsmen, Part One' Releasing April 25th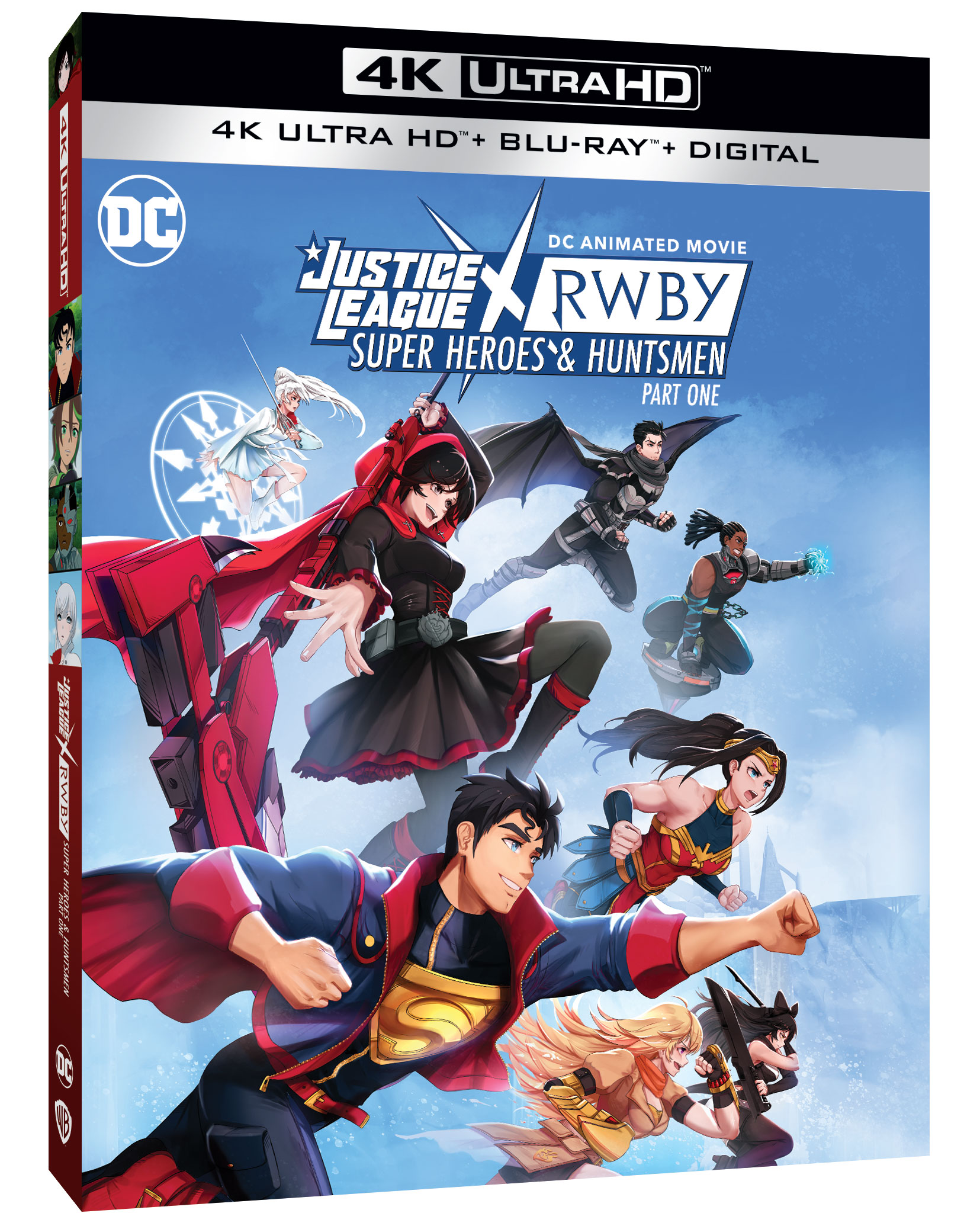 Posted on February 9, 2023 by Neil Cole

The heroes of DC's Justice League and Rooster Teeth Animation's RWBY join forces to battle an evil entity attacking Remnant in Justice League x RWBY: Super Heroes & Huntsmen, Part One, available to purchase Digitally and on 4K Ultra HD Blu-ray Combo Pack and Blu-ray on April 25, 2023. The all-new, feature-length DC Animated Movie finds Superman, Batman, Wonder Woman, Flash, Cyborg, Green Lantern and Vixen in new iterations – transformed into teenagers while in transport to RWBY's world, and presented in Rooster Teeth's anime-influenced animation – and partnering with the heroes of Remnant (Ruby, Weiss, Blake and Yang) to battle a mysterious, superpowered creature before it destroys everything they know.

The voice cast features a trio of first-time actors in DC's Trinity roles – Natalie Alyn Lind (Big Sky, The Goldbergs, Gotham) as Wonder Woman/Diana Prince, Chandler Riggs (The Walking Dead, A Million Little Things) as Superman/Clark Kent and Nat Wolff (The Fault in Our Stars, The Stand) as Batman/Bruce Wayne – alongside RWBY's long-running cast: Lindsay Jones (Camp Camp) as Ruby, Kara Eberle (RWBY: Ice Queendom) as Weiss, Arryn Zech (The Detective is Already Dead) as Blake, and Barbara Dunkelman (Blood Fest) as Yang.

Also featured in the cast is Ozioma Akagha (Teen Titans Go!) as Vixen, Jen Brown (Red vs. Blue) as Pyrrha, Tiana Camacho (JoJo's Bizarre Adventure) as Glynda, Aaron Dismuke (Fullmetal Alchemist) as Oscar, Jason Douglas (The Walking Dead) as Jacques, David Errigo Jr. (Ridley Jones) as The Flash/Barry Allen and Rolf, Samantha Ireland (Red vs. Blue) as Nora, Miles Luna (Camp Camp) as Jaune, Shannon McCormick (Get Backers, Day 5) as Professor Ozpin, Neath Oum (RWBY: Chibi) as Lie Ren, Tara Platt (Aggretsuko, Naruto: Shippuden) as Kali, Jeannie Tirado (Soul, Saints Row) as Green Lantern, and Tru Valentino (The Rookie, The Cuphead Show!) as Cyborg.

Justice League x RWBY: Super Heroes & Huntsmen, Part One is produced and directed by by Kerry Shawcross (RWBY franchise) and written by screenwriter Meghan Fitzmartin (Supernatural, Justice Society: World War II). Producers are Ethan Spaulding (Mortal Kombat Legends: Scorpion's Revenge), Jim Krieg (Batman: Gotham by Gaslight) and Kimberly S. Moreau (Legion of Super-Heroes). Laura Yates (Boyhood, RWBY, Red vs. Blue) is Supervising Producer. Executive Producer is Michael Uslan. Sam Register is Executive Producer.

The first western-produced anime series to be dubbed and distributed in Japan, RWBY was created in 2013 by the late Monty Oum (Red vs. Blue) as an animated web series. Now one of Rooster Teeth's most beloved, viewed, and shared franchises, the 9th volume of the series premiered earlier this month exclusively on Crunchyroll alongside all previous volumes. In 2022, the show saw unprecedented momentum with releasing the new Japanese anime series RWBY: Ice Queendom from Bandai Namco Filmworks and Studio Shaft and the new video game RWBY: Arrowfell from WayForward. RWBY episodes have averaged more than 7 million views, and the franchise has accumulated over 271 million views since its inception. RWBY has a fervent fanbase in North America, the United Kingdom, Australia and Japan. RWBY has expanded over the last few years to include a new manga from Shonen Jump, young adult novel treatment from Scholastic, and crossover comics with the Justice League from DC.

Justice League x RWBY: Super Heroes & Huntsmen, Part One will be available on April 25 to purchase Digitally from Amazon Prime Video, AppleTV, Google Play, Vudu and more. 4K Ultra HD and Blu-Ray Discs will be available to purchase online and in-store at major retailers.

SYNOPSIS:

Justice League x RWBY: Super Heroes & Huntsmen, Part One finds the Justice League facing off against a new horror: adolescence! Superman, Batman, Wonder Woman, Flash, Cyborg, Green Lantern and Vixen are surprised to find that not only have they materialized on a strange world called Remnant, but they've also been transformed into teenagers. Meanwhile, the heroes of Remnant – Ruby, Weiss, Blake and Yang – find their world has been mysteriously altered. Can the combined forces of the Justice League and Team RWBY return Remnant to normal before a superpowered Grimm destroys everything they know?

SPECIAL FEATURES INCLUDE:

Justice Comes to Remnant (New Featurette) – When the Justice League find themselves on Remnant, they'll have to deal with more than just their powers being altered. In this featurette, the filmmakers behind the film explore the world of Remnant, the Huntsmen that fight for it and how Earth's mightiest heroes are forced to adapt.

You Look… Different (New Featurette) – Remnant, the world of RWBY, isn't like Earth. The people are different. The powers are different. And the Justice League? Their entire appearance is different too. In this featurette, the creators of the film reveal the story behind the new look they've given to some old friends.

From the DC Vault – Justice League Unlimited – "Kid Stuff"

From the DC Vault – Justice League Action – "Plastic Man Saves the World"

OFFICIAL TRAILER:

×
×
---
---