Superman Celebration Announces 2023 Celebrity Guests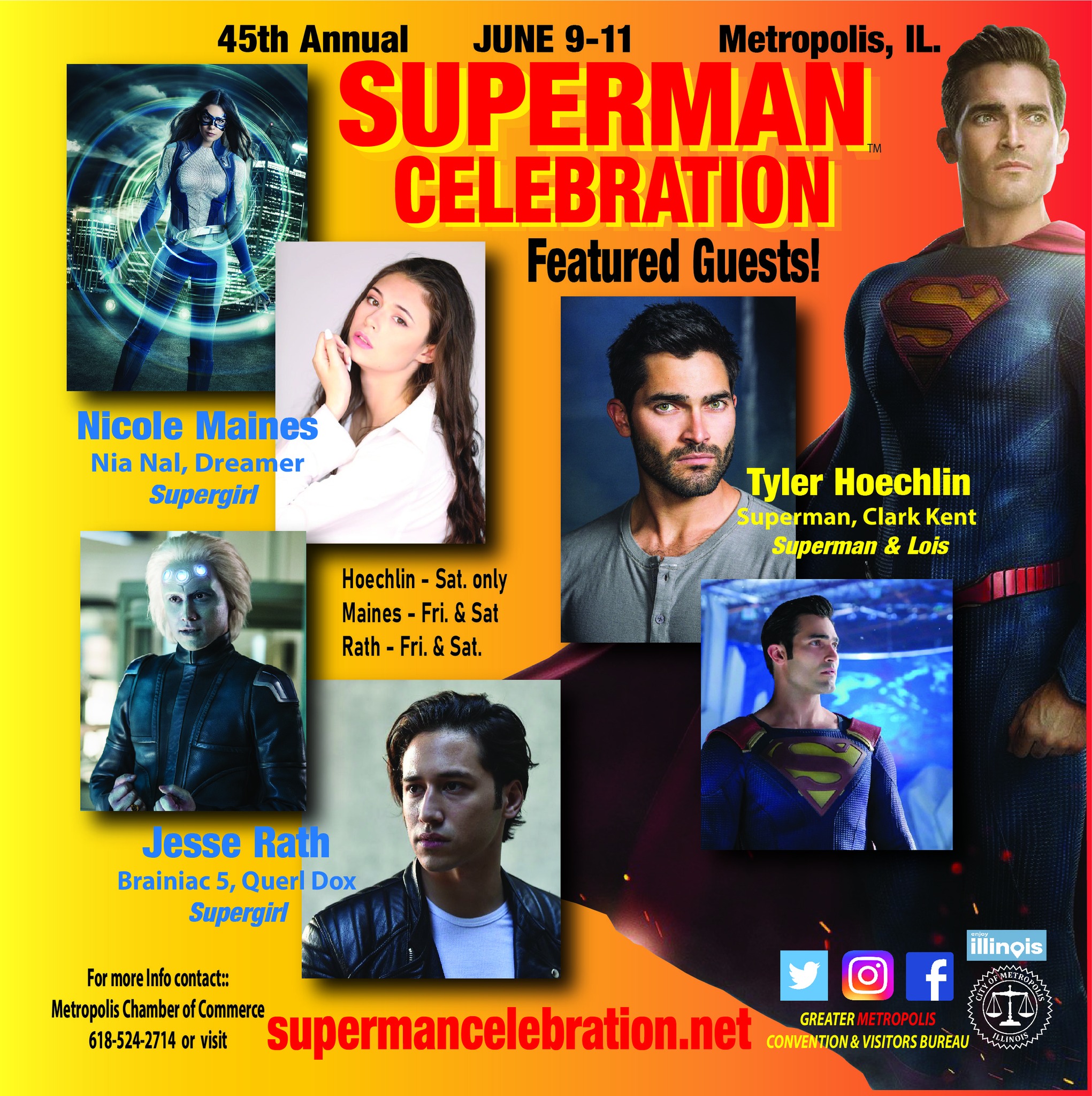 Posted on April 23, 2023 by Neil Cole

Actors Tyler Hoechlin, Nicole Maines, and Jesse Rath will be the celebrity guests in attendance at the 45th Annual Superman Celebration in Metropolis, IL taking place Friday, June 9th – Sunday, June 11th.

Hoechlin is best known for his starring roles as Clark Kent/Superman on the CW television series "Superman & Lois" and as Derek Hale on the MTV television series "Teen Wolf". He has also had starring roles in the 2002 film, "Road to Perdition" opposite Tom Hanks and as Martin Brewer on seasons 8-11 of the CW television series, "7th Heaven".

Maines starred in the role of Nia Nal/Dreamer in seasons 4-6 of the CW television series "Supergirl". She would also appear in the role in the Arrowverse crossover event, "Crisis on Infinite Earths" and in the recent episode of "The Flash", "Wildest Dreams". She also currently stars in a recurring role on the Showtime series, "Yellowjackets".

Rath portrayed the role of Brainiac-5/Querl Dox, a longstanding member of the Legion of Super-Heroes, in seasons 3-6 of the the CW television series "Supergirl". He is also well known for his role as Alak Tarr in the hit SyFy television series "Defiance" and has starred in such films as "Assassin's Creed: Lineage" and "The Howling: Reborn".

Both Maines and Rath will be appearing at the celebration on Friday, June 9th and Saturday, June 10th while Hoechlin will be appearing on Saturday only. All three guests will be meeting fans, signing autographs, and posing for photos during scheduled VIP autograph sessions throughout the day which will require tickets to attend.

Autograph session tickets are available through the purchase of a celebration sponsorship with proceeds going towards the support of the Metropolis Chamber of Commerce and the Superman Celebration. Sponsorships range in price from $150.00 for an Individual Sponsorship up to $2,500.00 for a Kryptonite Sponsorship and are available for purchase on-line at SupermanCelebration.net.

The Superman Celebration is a long standing festival and a must see event for people of all ages, especially comic book lovers. Superman fans travel from all over the globe to visit the small southern Illinois town that is the Official Home of Superman. The real life Metropolis, with a population of 6,500 residents, welcomes approximately 30,000 people over the course of the celebration.

For more information about the 45th Annual Superman Celebration, visit SupermanCelebration.net or call the Metropolis Chamber of Commerce at 800-949-5740. For information about Metropolis attractions and lodging, visit MetropolisTourism.com or call 877-424-5025.

×
×
---
---