They're going to Seattle.
Team Liquid is the first squad to qualify for The International 2023 (TI12), Valve's annual Dota 2 world champion.
The Western European team earned enough DPC points for TI12 when they defeated 9Pandas 2-1 in the lower bracket final of the Berlin Major, increasing their total to 1,500.
Liquid won the first two Division 1 Tours, earning them 700 points. They received more points during the two DPC Major events, securing 350 points for their runner-up finish at the Lima Major, followed by 450 more points after a second-place finish at the Berlin Major.
---
---
Team Liquid punches their ticket to TI12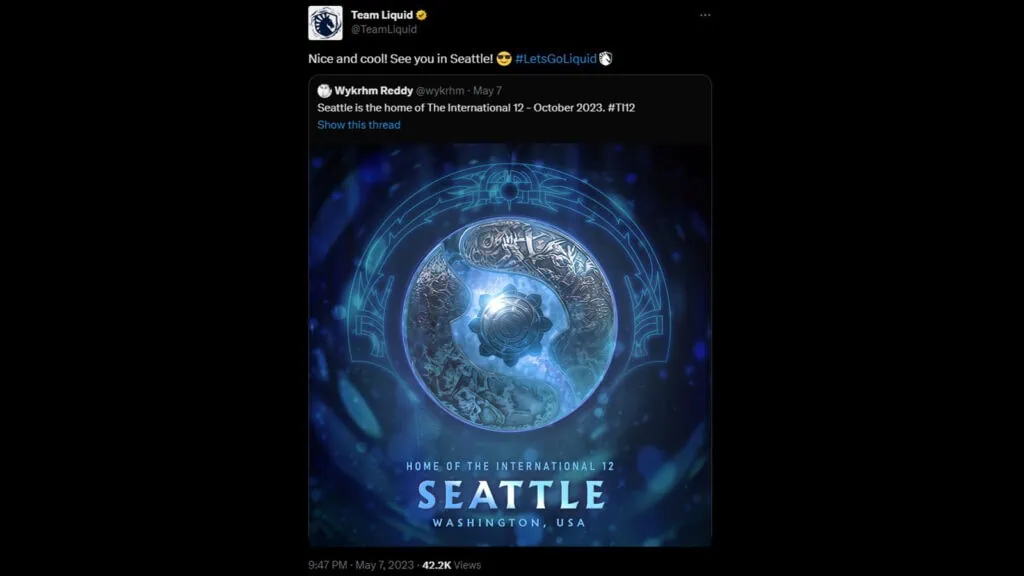 At the time of writing, Liquid has the most DPC points out of any team in the season, making them the top team in the standings.
The DPC 2023 season is in its last phase, with Tour 3 and Bali Major as the final two tournaments where teams can earn DPC points. With Liquid's current points, they are guaranteed to finish within the top 12 of the DPC standings.
This was confirmed by Dota 2 esports statistician Noxville, who tweeted that the DPC WEU kings are the "first team totally locked for The International 2023."
Based on Valve's qualification format for The International last year, the top 12 teams with the most DPC points will receive a direct invite to the Dota 2 world championship.
Valve has yet to officially announce the total number of teams that will receive direct invites for TI12, but it's safe to say Liquid's DPC 2023 performance has moved them ahead of the competition. 
Since the 2021-2022 DPC season, Valve's criteria for direct invites for The International has not changed.
READ MORE: Three legendary PSG.LGD players team up in return to Dota 2's competitive scene