"Superman: The Movie" Screening in Costa Rica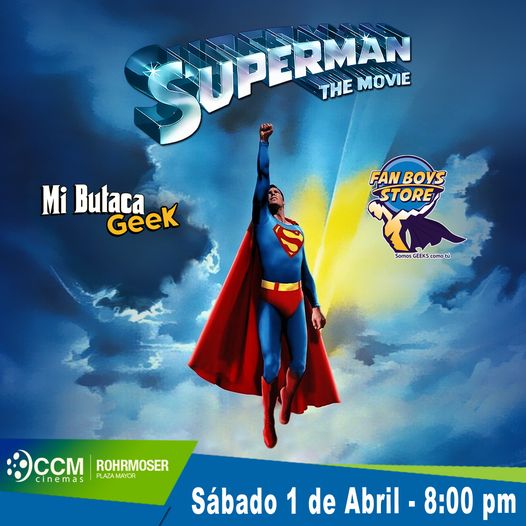 Posted on March 16, 2023 by Neil Cole

For the first time in decades, Superman fans in Costa Rica will have the opportunity to see "Superman: The Movie" on the big screen at the Plaza Mayor CCM Cinema on Saturday, April 1st at 8:00pm in San José, Costa Rica.

One of the most well-regarded superhero films of all time, Superman was a box-office smash when it rocketed to Earth in 1978. The last son of the dead planet Krypton, Kal-El (Christopher Reeve) is found as a baby by Jonathan (Glenn Ford) and Martha Kent (Phyllis Thaxter) when his spaceship crashes just outside of Smallville, USA. Given the name "Clark" by his adopted parents, the boy grows up strong in the American heartland, developing amazing powers under the light of the yellow sun. One day, Clark finds a glowing crystal, and with it finds out about his alien heritage, the knowledge imparted to him by his birth father, Jor-El (Marlon Brando). The boy becomes a man, and moves to Metropolis to work for the Daily Planet newspaper, finding love in Lois Lane (Margot Kidder) and danger in the form of criminal genius Lex Luthor (Gene Hackman).

The special screening is being presented by Fortaleza de la Soledad, the Mi Butaca Cine Club, and the Fan Boys Store and will also feature contests, cosplayers, raffles and exhibitions. This is an event no one should miss, full of surprises, celebrating 85 years since Superman came to this planet.

Purchase your ticket now before they sell out at the movie box office or via CCMCinemas.com at the MY GEEK POCKET button.

Thanks to Roberto Chavarría for the lead on this story.

×
×
---
---