3D modelers apply many processes to improve the look and usability of their assets when creating the characters, props, and sets that feature in your favorite video games and films. One important technique to master, particularly for video games, is level of detail (LOD). Not only does LOD support faster rendering, it does so in a way that doesn't negatively impact the visual quality of an asset. 
We discuss what LOD refers to and why it's so important, explore some other ways to reduce the render times and computational output of your 3D model without losing any required detail, and look at how to kick-start your career as a 3D modeler.
What is 3D modeling?
3D modeling is the creation of a computer-generated object or character represented in 3D space, commonly referred to as a model or an asset.
3D models are an integral part of many films and games and have many different purposes. They can be rigged and animated, placed as a stationary object in a scene, combined with other assets to create a set/environment, simmed or destroyed, and used for shadows or holdouts.
What is level of detail (LOD)?
Level of detail (LOD) refers to the level of complexity in a 3D-generated model and is primarily used in real-time rendering for video games and interactive tools. It helps reduce the amount of detail by simplifying polygons and textures as they get further away from the camera.
LOD helps to manage the computational requirements of rendering complex scenes (essentially reducing the file size/amount of data of the 3D model), allowing for smoother and more efficient performance while preserving visual quality.
A 3D modeler will determine what level of detail their asset requires based on how close it will be to camera, as well as what angles it will be seen from and its speed on screen. For example, when viewing an object from far away, only basic features such as color and geometry may need to be visible. Generally, the closer to camera, the more level of detail (surface details, textures, shadows, etc. ) will be required. 
Level of detail can be accomplished through automatic processes built into relevant software or done manually, often by technical artists after the initial model is complete.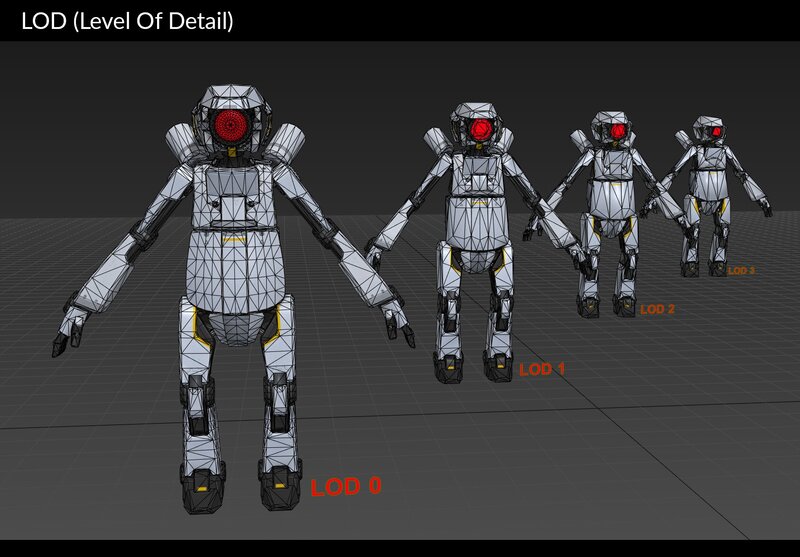 Example of different LODs on a 3D model and where they would be used in relation to the camera (Image: arm Developer)
Which software do you need to create LOD models?
Here are three software programs used in 3D modeling for creating LOD models: 
Unreal Engine
Unreal Engine has the built-in functionality to automatically create LODs out of the textures you use, which saves a lot of time. Before using their automated LODs, set up and define your LOD groups in the settings menu first. For greater flexibility, you can manually set your LODs based on LOD group presets (LOD0, LOD1, LOD2, etc.).
Maya
With Maya, you can create multiple versions of characters and objects to be placed in your scene based on specific threshold values. This can be set by the group's distance to the camera or a percentage of the screen height. 
Houdini
Houdini can also be used to automatically generate multiple LODS using the PolyReduce SOP. These variants are based on the object's distance from the camera (the viewer). 
[featured]
Other 3D modeling techniques that can help maintain a quality level of detail
There are other modeling and texturing techniques used by 3D modelers—and sometimes texture and look-development artists—that can also help to make an asset 'lighter' (easier to load, render, and work with in a 3D scene) while still maintaining, or even improving, a high standard of visual fidelity. These include:
Bump mapping
Bump mapping is a texture mapping technique that simulates small-scale bumps, wrinkles, ridges, and other surface irregularities by altering the surface normals of a mesh but without actually changing the geometry. It's achieved by modifying the light reflections of an object's surface through noise pattern information that mimics an object's real depressions or bumps.
Bump maps are useful for all types of 3D models — from rocks, wood, and concrete surfaces to fabric and other organic materials, adding a finer level of detail without the additional polygons or memory constraints.
Retopology
Retopology is a process in a 3D modeling production pipeline where a high-resolution mesh is transformed into a new, lighter mesh with a lower vertex count while preserving the overall shape and features of the original mesh. This helps to make a 3D model easier to manipulate, animate, and render, as well as to reduce the amount of memory and processing power required to work with the model.
Retopology is an essential step in creating 3D models for animation, games, and other interactive media.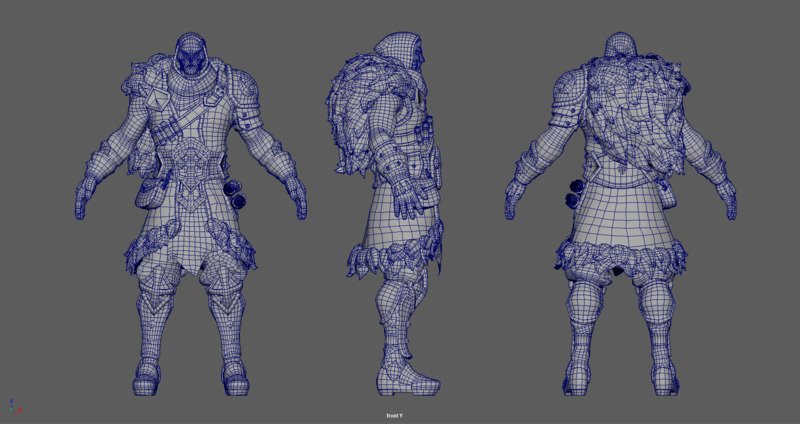 CGS Advanced 3D Modeling Course grad, Benjamin's 3D model of the Battle Chasers character Alumon with a wireframe to show the topology. When retopologizing a model, the wireframe will contain fewer outlines as it will have less topology (points, polylines, and polygons) to trace over.
Texture baking
Texture baking allows you to generate 2D texture maps from a 3D model's high polygon count and is a technique used particularly in video games. This process generates textures that are applied to the lower polygon count model, representing the detail and appearance of the high polygon model. Baking takes into account the lighting, shadows, and other surface details of the high polygon model and transfers them onto the texture maps. These texture maps are then applied to the lower polygon count model to give it a more detailed and realistic appearance.
Texture baking helps to optimize game performance and reduce the need for high-end hardware by reducing the number of polygons that need to be processed during runtime.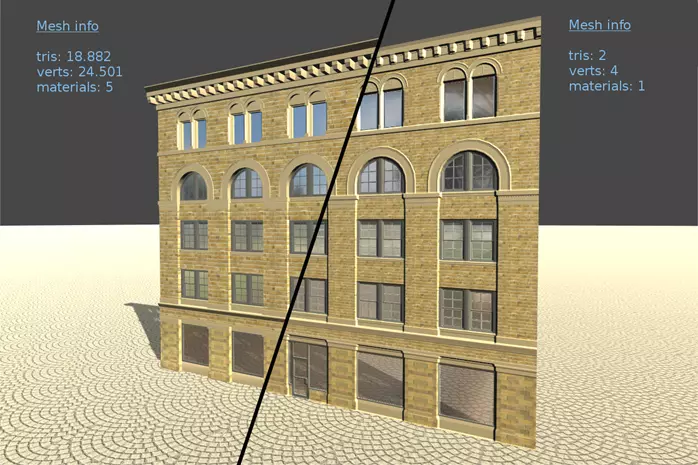 Example of the effectiveness of texture baking on a building facade 3D model using Unity's texture baking tool, Total Baker. (Image: Unity)
Displacement map baking
Displacement map baking is the process of rendering a 3D model's surface detail into a 2D image map that can be used to drive the height and depth of the model's surface. A displacement map is usually generated from high polygon count 3D models and then applied to a lower polygon count version of the same model.
Displacement map baking allows for the retention of a high level of detail in the final model while reducing the computational cost of rendering and animating the more complex high polygon count model.
How to become a 3D modeler
If you want to become a 3D modeler, a great place to start is to familiarize yourself with the VFX pipeline and/or the video game process, and you will need to be competent in 3D modeling software, such as the ones listed above.
Employers and recruiters will usually require applicants to demonstrate their knowledge of relevant tools, along with their artistic eye, in the form of a portfolio or showreel. You'll also need to understand how to work to a brief, including receiving, interpreting, and executing feedback on your work.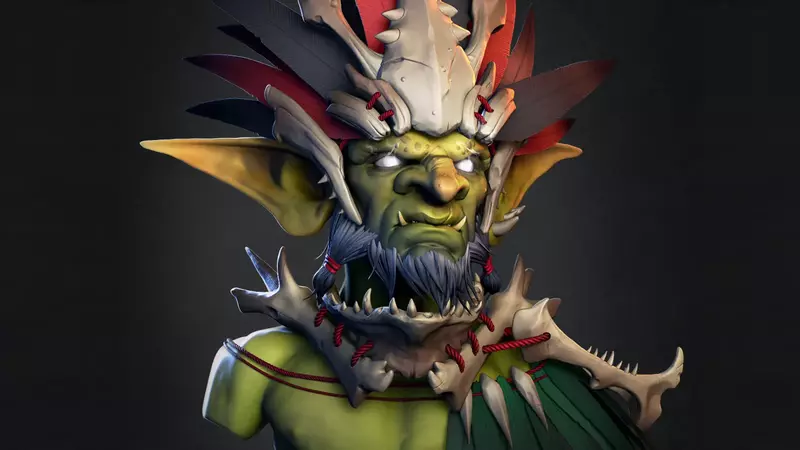 3D character model by CGS grad Pietro Trizzullo who is now working at Room 8 Studio.
Learning directly from 3D modelers with first-hand experience in visual effects, animation, and games is a great way to gain the right skills. CG Spectrum has several courses, all led by industry professionals, that will help prepare you for a career as a 3D modeling artist: 
Foundations of 3D Modeling Course (9 months):

Guided

by experts who've worked on projects like

Arcane

,

Overwatch 2

,

Pacific Rim

,

and

The

Mandalorian

, you'll grasp the 3D modeling essentials and then b

uild on your foundation with more complex exercises

using industry-standard software Maya, ZBrush, and Substance Painter.

Learn 3D character modeling and create a game-ready character with hair, clothing, and accessories. Finish the course by building a 3D envir

onment that you'll texture, light, and import into Unreal Engine.

Advanced 3D Modeling (9 months): Speed up your 3D sculpting workflow and further your environment and character design skills by creating more detailed, fully rendered models, including a creature with skin, scales, and fur. In your last term, you'll polish your 3D art to add to your portfolio, with mentor feedback, while learning the skills to get you job-ready.
Introduction to 3D Modeling (3 months): Not ready to commit to a nine-month course? This shorter introductory course teaches you some of the 3D modeling essentials: navigating Maya, understanding professional workflows and tools, and creating a 3D asset from scratch. If you want to continue learning after this course, you can enroll in the Foundations of 3D Modeling Course (listed above) and move straight into term two.
Want to learn how to build 3D models and environments for industries outside of film and games? Consider a career as an archviz 3D artist! We have an architectural visualization course coming soon — subscribe to our newsletter and follow us on socials for more information.
---
Level up your 3D modeling knowledge at CG Spectrum!
3D modeling is a versatile role with excellent job prospects. CG Spectrum's courses are designed to help you build the right hard and soft skills for a successful career as a 3D modeler.
Learn industry-standard 3D modeling software and techniques from experts working in film and games, and take advantage of our career services and vibrant online community, offering our students even more opportunities to learn, grow, and have fun!
Enrol at CG Spectrum to ensure you're ready to hit the ground running when the time comes to start applying for jobs as a 3D modeler.